Can You Help Philip?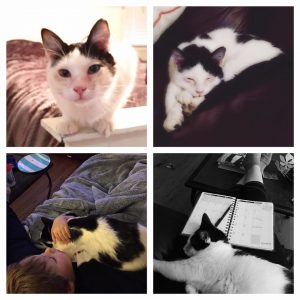 Sweet, handsome Philip needs somewhere to live – short term foster, long term foster, forever home would be best of all! He has to leave his current foster home tomorrow. Please be Philip's valentine and give him hope.
Philip is around 9 months old. He is curious and playful, friendly and likes kids. He loves to cuddle and snuggle in laps.
He would be best as an only cat. As a kitten he had calicivirus which is a feline-specific viral infection of the upper respiratory system. Although fully recovered, he will most likely need to have his eyes wiped clean from time to time. He should be an only cat because there is the potential that a cat once infected with calici could act as a carrier and shed the virus the rest of his life.

He was scheduled to be euthanized at a busy animal shelter because of the calici. He was rescued by a kind soul and came under the care of the CCC to find him a home.

If you can help this sweet cat or know someone who can – foster or forever – please contact the CCC.
Message on FB, call (530)894-1365, email at mail@chicocatcoalition.org

Thank you! Meowz!