---
---
The story of Mavis is a very special one for everybody at the shelter and we couldn't be more thrilled to share her adoption story. Mavis has a neurological disability causing her to have some motor skills challenges, so we knew her adoptive family would need to have an especially big heart to help her live a long and comfortable life.
Enter Kandis.
Two years ago, Kandis fell in love with Mavis and brought her home. Since then, the two of them have become BFFs! Kandis shared a little bit about what life is like with this sweet fluffball:
Any fun nicknames? I usually call her girlfriend unless she has her tortitude going on then I call her by her name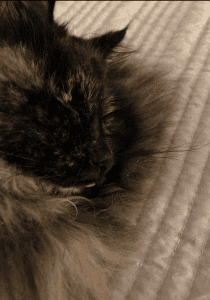 How has Mavis adjusted to adopted life? We recently moved into our own place. She is getting a lot closer to me!!
Does she fit in well with the family? It's just me and her and I love her so much!! So yes!! She brings me so much joy and makes me laugh every single day!!! She does the silliest and funniest things.
What are her favorite toys? She has a stuffed mouse that I fill with catnip that she absolutely loves and she loves strings!
Favorite snacks? She loves treats and chicken! And she knows what the words are when I ask her if she wants them
Toys/snacks/things she doesn't like: She doesn't like shadows or anything sparkly. Those things really scare her. I don't think she can see very well in the dark so every night we sleep with the light on :)
Any funny story to share? She is a trotter and it's the cutest thing!!! And she kind of hops around when we play or she has a lot of energy and when she jumps onto the bed, she always lands on all 4 legs at once. Sometimes it's hilarious because she will overjump and go way up (I have a bench that she jumps on first) (She can't jump onto counters or anything).
Anything else you'd like to add? Due to her disability, she is way different than "normal cats." I keep her brushed and have to clean her. She loves my shoes!! She will lay on them or next to them. She has laid on me halfway twice now when I am in bed. She is slowly starting to show more and more affection. She has always put her head against my arm to show me affection when I pet her. She doesn't cuddle and hates when I pick her up and give her kisses but I do it anyway! She likes it when I chase her and then she stops and lays on her side so I can scratch her belly. I don't know what I would do without her!!!